We can take any tile, either cut to size by us, or full original sized tiles and apply different styles of edge polishing, shaping and also anti-slip solutions. This eliminates the need for tile trim, and gives a more luxurious finish to tile edges . We can create many different edge shapes & styles,. The most popular ones are shown below: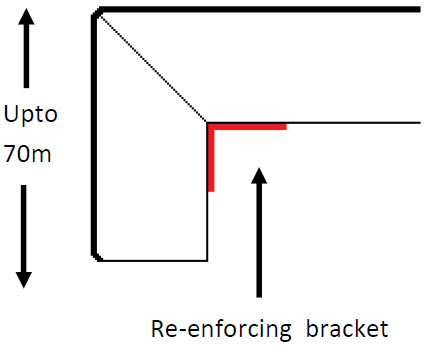 Mitred edging (upto 70mm edge)
Two components cut at a 45 degree angle and glued together with a strong colour matched UV resistant epoxy resin. Suitable for both indoor & outdoor use, it creates the impression of a much thicker slab.
We also adhere a small (1mm thick) stainless steel bracket to the underside for extra strength
(See detail photos in our gallery page)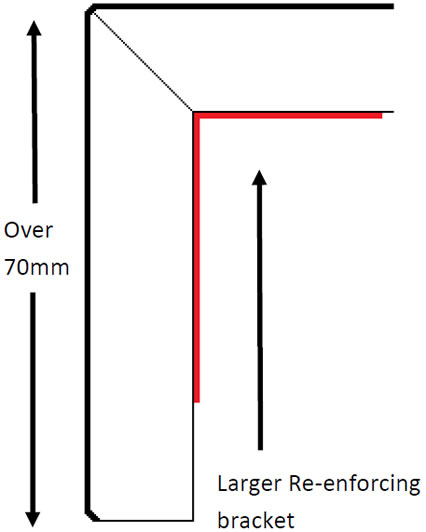 Mitred edging (OVER 70mm edge)
Similar to above, but with no limits to the vertical component. Ideal for a step tread & riser combination to create the impression of a "SOLID BLOCK" effect . The vertical riser extends down to the level of the step below. This effect can also be used around columns or to tile around corners when wanting to avoid tile trim.
With this option we adhere a heavier duty 2mm thick stainless steel bracket behind for extra strength
Any edge can have additional polish to
underside if required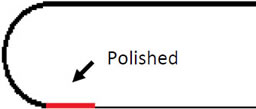 Any edge can have a "Drip groove" added to underside if required  (3 x 3mm is standard)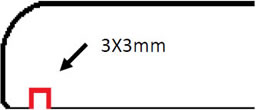 We can take any tile, either cut to size by us, or full original sized tiles and create anti-slip feature lines. These can be created fully bespoke to your exact requirements, or take a look below at our standard options.
Ideal for step treads and swimming pool edges. Any anti-slip style can be used with any edge shape.
Lines filled with GRP anti-slip
These are an ideal solution for low maintenance anti-slip. As the product sits approx 1mm PROUD of the tile surface, they do not need as much cleaning as the open ones described above. They are commercially recognised, and certified to comply with latest legislation and pass relevant pendulum testing.
Black is standard issue, however, this product is available in many different colours as special a order.
Lines filled with stainless steel or brass
Similar to the GRP product, these metal bars sit approx 1mm proud of the tile surface, so provide a low maintenance solution. They really do give a more prestigious and luxurious finish to any step tread.
(We do not recommend brass for outdoors)